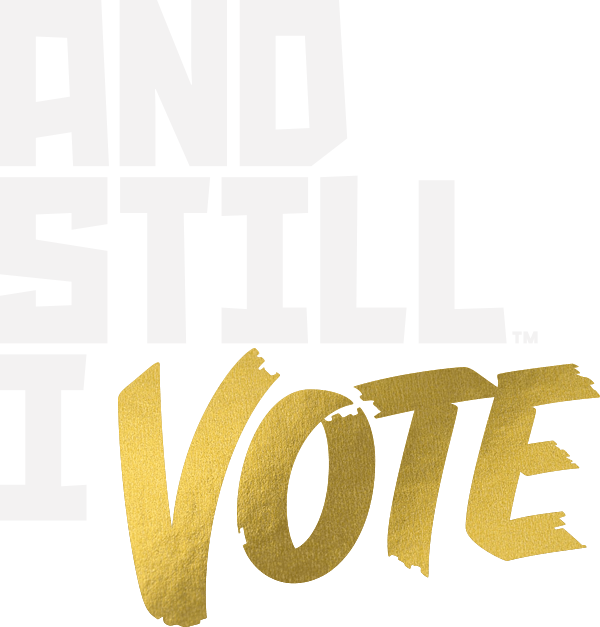 National Week of Activation
May 4 – May 7
This week we will be turning up all week!

As part of the "And Still I Vote" campaign, The Leadership Conference on Civil and Human Rights will join with coalition partners to harness the collective power of voices to advocate for election reforms, provide updates on what is happening in key states, and shine a light on voter suppression.
Schedule of Events:
All times shown are in Eastern Time (ET)
Monday, May 4th
6:30 pm
Virtual Town hall with live Q&A about Georgia's primary elections – Get ready for Georgia's primary elections. Learn how to protect your vote during the COVID-19 pandemic. Join local and national voting rights experts to discuss vote by mail, election protection, and more.
Tuesday, May 5th – Turn Up Tuesday
5:30 pm
Turn Up Tuesday FB Live w/Ashley Allison – Join us to discuss the work that goes into fighting to secure the right to vote for all communities and how we've partnered with national and local organizations to ensure all voices are heard. Guest include: Leigh Chapman, Director, Voting Rights Program, The Leadership Conference on Civil and Human Rights; Hannah Fried, National Campaign Director, All Voting Is Local; Vanessa Gonzalez, EVP, Field and Membership, The Leadership Conference on Civil and Human Rights; LaShawn Warren, SVP, Campaigns and Programs, The Leadership Conference on Civil and Human Rights
6:00 pm
Fighting for Equality Virtual Town Hall – DC Vote has organized a Virtual Town Hall to hear from Voting Rights champions in Congress and national civil rights organizations. "Fighting for Equality" is urgently needed to organize our supporters to work to assure that DC gets its fair share of COVID 19 aid funds and to hear about prospects for getting the House vote on HR 51. Featuring: Senator Chris Van Hollen, Congresswoman Eleanor Holmes Norton, Representative Jamie Raskin, Vanita Gupta – President and CEO – The Leadership Conference on Civil and Human Rights, Virginia Kase – CEO – The League of Women Voters of the United States. Watch live here.
7:00 pm
#AndStillIVote text-a-thon – Join in to text voters and supporters from key states to encourage them to advocate in their own states when it comes to protecting the right to vote!
Wednesday, May 6th
3:00 pm
#AndStillIVote Tweet Storm with The Leadership Conference, The League of Women Voters & Voto Latino – A national coalition of organizations representing a wide range of communities and issues will come together to send a clear message – voting is a right we will fight for. Join in to learn how voter suppression is impacting communities and how to actively combat it!
Thursday, May 7th
10:00 am
Florida Coalition Press Conference with All Voting is Local and voting rights leaders – This press conference will bring together voting rights leaders and key organizations to demand that the Governor act now to safeguard elections and ensure elections can happen safely. Groups will launch an online petition to engage Floridians in this important issue.
6:00 pm
#AndStillIVote Tele Townhall – Join leaders who are helping lead the charge for voting rights and election security for the communities of color during COVID-19 and beyond. Participants include: Vanita Gupta, President and CEO of The Leadership Conference, Sherrilyn Ifill, President and Director-Counsel of the NAACP Legal Defense and Educational Fund, Tom Saenz, President and General Counsel, Mexican American Legal Defense and Education Fund, and Kristen Clarke, President and Executive Director, National Lawyers' Committee for Civil Rights Under the Law Participant Line: (855)-756-7520 Ext.60241#
7:00 pm
Special Edition Facebook Live
Join Ashley Allison with The Leadership Conference and Karine Jean-Pierre with MoveOn for a conversation with guests about what needs to happen now to protect our country's election system and the impact of voter suppression on vulnerable communities.
Guests include: Senator Kamala Harris, Representative Ayanna Pressley and New Mexico Secretary of State Maggie Toulouse Oliver Watch this event of Facebook
Add'l Links
Spread the word
Did you know that millions of Americans can't access the democratic process because of solvable problems in how elections are run? These problems aren't felt equally across communities – voters of color are 6x more likely than White voters to wait longer than an hour to vote, even in the same town. Spread the word to help defeat barriers to the ballot box.
Share our message to help defeat suppression:
Partners
This Campaign Is PowereD By: